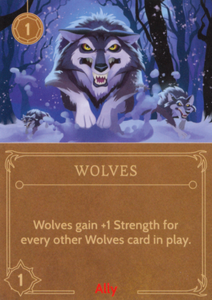 Ally is a card type. It only appears in Villain decks, and is denoted with a red font. Allies are played to the bottom of a Villain's board, in a particular location. All Allies have a Strength, which is used to determine if they can Vanquish a Hero (even if they belong to a Villain without Vanquish actions, like Ursula or the Evil Queen).
Official Rules
[
]
Ally cards appear only in the Villain deck and represent your Villain's henchmen, helpers, and pets.
To play an Ally, pay its Cost (shown in the upper left corner) and place the card below any unlocked location in your Realm.
Once Allies have been played to a location, you may use them to defeat Heroes at the same location by performing the Vanquish action.
Each Ally has a Strength (shown in the lower left corner), which may be modified by other cards in the Realm.
Additionally, most Allies have an Ability that affects other cards or actions.
Once an Ally is in your Realm, you'll need to decide whether to use it to defeat a Hero or keep it in your Realm for its Ability.
FAQ
[
]
Whenever referring to an Ally's Strength, always consider all other card Abilities that are in effect in the Realm. For Example, if an Ally has a Strength of 5 printed on their card, but another card in the Realm gives them -1 Strength, then that Ally's Strength is considered to be 4 for all purposes.
Clarifications
[
]
Unless its Ability specifically forbids it, an Ally can always be played, even if its on-play Ability cannot be fully resolved.