Welcome to the Disney Villainous Wiki!
[
]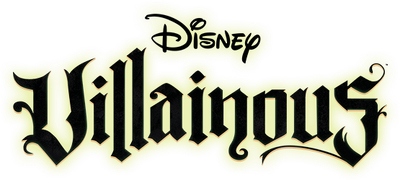 Welcome! We're a collaborative community website about the strategic card/board game Disney Villainous that anyone, including you, can edit. Click the edit button at the top of any page to get started!
Some cards have changed between printings. This wiki uses the most up-to-date printings, which for each set are:
What is Disney Villainous?
[
]
Disney Villainous is a strategic tabletop game where you take the role of a classic Disney Villain. Your goal is to fulfill the evil scheme your Villain was trying to accomplish in the movie they are from - whoever does this first, wins!
Game Overview
[
]
Each player takes the role of a different Disney Villain. Each Villain has a different Objective they are trying to achieve. Each turn, players move their Villain Mover to a location on their Board and perform actions that are available there. As soon as a player has fulfilled their Villain's Objective, the game ends and that player wins.
For villains created by the fan community, see the Disney Villainous Homebrew wiki.