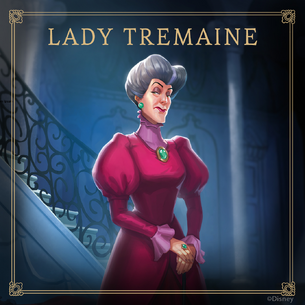 "Above all, self-control."
Lady Tremaine is one of three playable Villains in the Villainous expansion, Despicable Plots. She is from the movie Cinderella, released in 1950, in which she is voiced by Eleanor Audley. She is illustrated in the game by Marisa Oh.
Lady Tremaine cannot take Vanquish actions, and only has three Effects in her deck that allow her to defeat certain Heroes. Instead of removing Heroes, she manages them by Trapping them, indicated by placing one of five Trapped tokens on them. Trapped Heroes' Abilities are ignored, though they still cover actions. Lady Tremaine can Trap Heroes with Trapped, Locked Up, Lucifer, and The Key.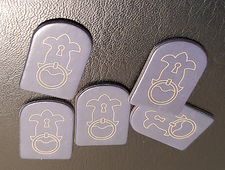 Lady Tremaine must marry either Drizella or Anastasia to The Prince. To do this, she must first unlock The Ballroom by playing Invitation from the King. Then she must have either Ball Gown Drizella or Ball Gown Anastasia (which can only be played to replace their informal versions already in play) in The Ballroom with The Prince, and then activate Wedding Bells when no Glass Slippers are present. Glass Slippers can only be removed by Lady Tremaine's Cane, while Heroes that block Ally movement or discard Items can either be Trapped, or defeated using You Little Thief! or Midnight.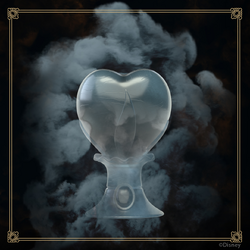 Lady Tremaine's Realm contains the following locations, from left to right: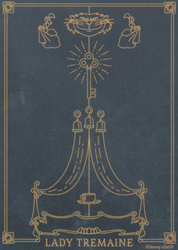 The following cards are in Lady Tremaine's Villain deck:
These include 5 Allies (Anastasia; Ball Gown Anastasia; Ball Gown Drizella; Drizella; Lucifer), 6 total Conditions (And One More Thing; Locked Up; Vicious Practical Jokes), 15 total Effects (There's Still a Chance; I Said "If"; Trapped; I Never Go Back on My Word; You Little Thief!; Midnight), and 4 Items (Invitation from the King; Lady Tremaine's Cane; The Key; Wedding Bells).
Card Gallery
[
]
4 Copies:
3 Copies:
2 Copies:
1 Copy: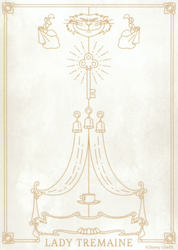 The following cards are in Lady Tremaine's Fate deck:
These include 6 total Effects (Bibbidi-Bobbidi-Boo; Sweet Nightingale), 6 Heroes (Ball Gown Cinderella; Bruno; Cinderella; Fairy Godmother; Gus; Jaq), 2 total Items (Glass Slipper), and 1 Prince (The Prince).
Card Gallery
[
]
3 Copies:
Glass Slippers:
1 Copy:
Strategy
[
]
Lady Tremaine is a rather defensive Villain, possessing several ways to shield herself from Fate. If things go well, she can reach victory quite quickly, but if her defenses are breached, it can set her back significantly. Winning with Lady Tremaine requires planning, and a thorough understanding of which Fate cards will hurt you the most.
To reach her Objective, Lady Tremaine needs to draw at a minimum four separate cards: Invitation from the King, Wedding Bells, and either Anastasia or Drizella and their respective Ball Gown form, for a total of 10 Power. There is no particular order these need to be played in, other than a Ball Gown needing to follow the vanilla daughter. If any Glass Slippers arrive, you will also need Lady Tremaine's Cane. These cards can be anywhere in your deck, thus you will need to discard relentlessly, visiting Cinderella's Room and The Castle often; And One More Thing is very helpful in this endeavor, as it will likely trigger fairly quickly. Once you have each piece, play it immediately; the only reason to delay would be with Wedding Bells if Jaq has not shown up yet, as you can play and Activate them on the same turn anyway.
Quite a lot can go wrong along the way, however, as there are some exceedingly harmful cards in your Fate deck. As such, you will need to protect yourself. I Never Go Back on My Word lets you see what's in store for the next two Fates, and also lets you choose in what order they come out, and is usually worth playing, and the Activated Ability on the Invitation lets you outright discard anything you don't want to see. But your greatest defense is Vicious Practical Jokes, which will usually let you fully nullify a Fate, either letting you pick a less damaging option, or an option that can't be played at all. Because of this, do not discard Vicious Practical Jokes ever, though you usually won't have to hold on to it for very long. When using the Condition, be mindful of what you need to do: if you're still searching for more pieces, keep The Castle open for the discard; if you've been hit by Sweet Nightingale, keep Cinderella's Room open for the move. As counterintuitive as it may seem, the best place to force Heroes is often The Music Room, as keeping your discard and movement options open is usually more important than a Fate deluge.
Once all your required Items and Allies are on the board, all you need do is move your Ball Gown daughter into The Ballroom and Activate the Wedding Bells to win. This is easiest done at The Ballroom, but can also be done elsewhere with There's Still a Chance. This Effect comes in useful even at The Ballroom if there's still a Glass Slipper hanging around, or if your daughter is in The Music Room rather than The Castle.
The largest complication will likely be Fairy Godmother, as she halts all Ally movement, and also brings out Ball Gown Cinderella, who guarantees that both Glass Slippers will come out. To deal with this, you will need to either Trap Fairy Godmother and defeat Ball Gown Cinderella with You Little Thief!, or defeat both of them with Midnight, so you'll need to be on the lookout for those cards. However, if a Ball Gown daughter is already in The Ballroom, then neither Fairy Godmother nor Ball Gown Cinderella can stop you.
While less likely, the most painful Fate is Jaq, if he successfully discards Wedding Bells or Lady Tremaine's Cane. You need to be taking active steps to prevent this, whether that's holding on to Vicious Practical Jokes, manipulating your Fate deck as previously discussed, or biting the bullet and spending 3 Power for Lucifer. If he does break through your defenses, the best way to recover will be with I Said "If", though you will still likely need several turns to redraw your lost Item, by which time your opponent may have already won - hence the need to proactively defend against him!
Defeating Lady Tremaine requires one of two strategies: outracing her, or brute Fate force. Only a select few Villains can outspeed the wicked stepmother, such as a lucky Evil Queen or Dr. Facilier, so more likely you will need to take the latter strategy. Lady Tremaine needs to be Fated enough to punch through her copies of Vicious Practical Jokes, and get past the cards ordered by I Never Go Back On My Word. However, such Fating should try to be saved for the midgame, as in the first few turns most Fates will do absolutely nothing to her: Sweet Nightingale only hurts if she has any Allies in play, Jaq only matters if there's an Item to discard, and Bibbidi-Bobbidi-Boo is useless unless there's a Trapped Hero. Therefore exert some restraint until Lady Tremaine starts to play valuable targets, then show no mercy. If Fairy Godmother sticks around for multiple Sweet Nightingales, that will leave her Items vulnerable, and the inevitable succeeding Glass Slippers will slow down her ability to move her Allies back into place. Once Lady Tremaine is in such a position, speed to your own win condition before she can recover.