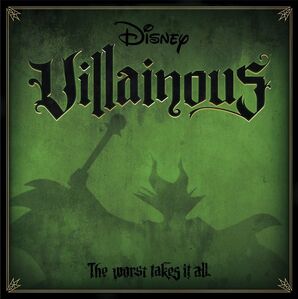 The Worst Takes It All is the base set for Villainous. It is the first published set, and contains the most Villains. It was released in July 2018.
List of Villains
[
]
Contents
[
]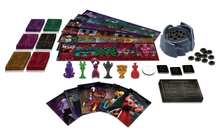 6 Boards
6 Villain Movers
6 Villain Guides
6 Reference Cards
180 Villain cards (30 per Villain)
90 Fate cards (15 per Villain)
80 Power Tokens
3 Lock Tokens
1 Fate Token
1 Cauldron
Versions
[
]
Currently there have been three releases of this version of the game, the version of the box can be found on the lower right corner of the back of the box, above the bar code.
Box USe01, the BOX material has a velvety feel. Contains cards USe01.
Box USe02, the Box material was changed to UV. Contains cards USe01.
Box USe03, the Box is of the same material as USe02. Contains cards USe02 in which several card texts were updated for clearer interpretation and to match the wording used in Wicked to the Core and Evil Comes Prepared, and colors were also tweaked.